FRANCO-SWISS TOUR
WELCOME ABOARD OUR CARRIAGES AND BOATS FOR AN UNFORGETTABLE RIDE!
Embark and discover an exceptional site. Le Saut du Doubs and all its gorges are classified as "Grand Site National". Discover the landscapes of the Haut-Doubs, its picturesque farms, stop at the lookout to admire the Gorges du Doubs and continue on towards the Saut du Doubs waterfall to the rhythm of the Comtois horse. Visit the site of the Saut du Doubs on foot, cross over to Switzerland and return by river boat! download the leaflet 

Accessibility for disabled people.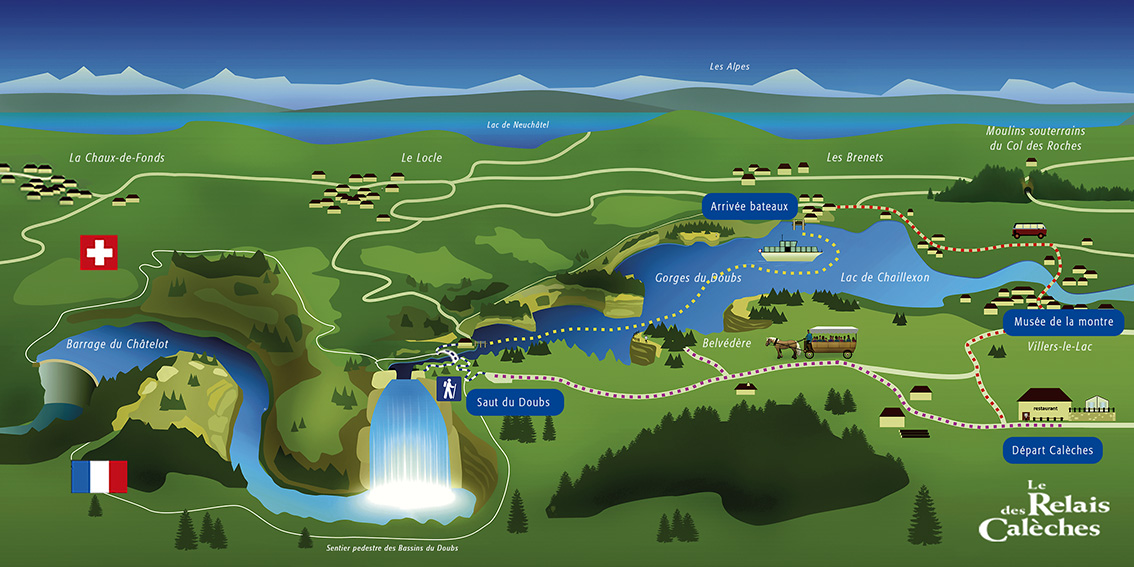 Return by carriage to the viewpoint of the Gorges du Doubs.
Carriages depart at 9:45 am, 10:45 am, 1:45 pm, 3:15 pm, 4:45 pm to the Doubs Gorges Lookout, return by carriage. Duration of trip  (1:30).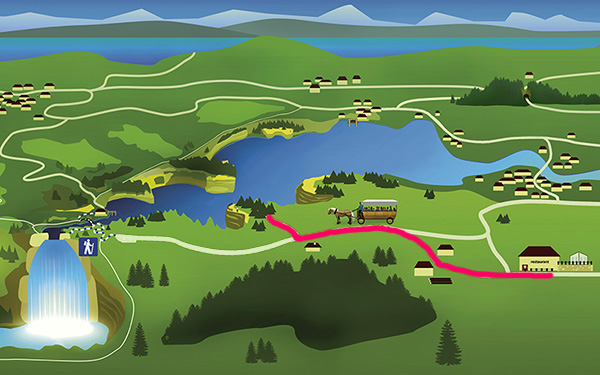 Go by carriage and return by boat through the Gorges du Doubs.
Carriages depart at 9:45 am, 10:45am, 1:45 pm, 3:15 pm, 4:45 pm to visit the Belvedere of the Doubs Gorges, walk to Saut du Doubs and return by boat from Switzerland. Duration of trip (2:30).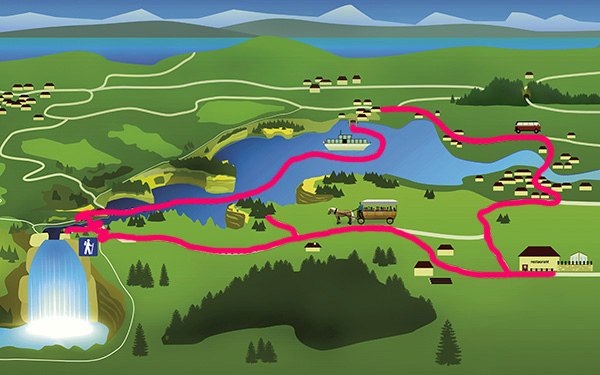 Navigation on Lake Brenets.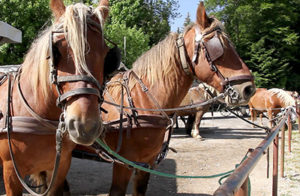 – The Comtois is a draft horse race of medium height, specific to Franche-Comté. The Number One breed in use in France, its massive shape fits perfectly in the landscape. Formerly a companion of work, the Comtois is now mainly used for recreation.
Historically a battle mount under the old regime, the Comtois is the first flourishing breeding example of a heavy pulling horse in France. It was decimated during the Napoleonic Wars and  experienced a period of decline in the nineteenth century, when it re-emerged as the Jura horse, then as the Freiberger horse in Switzerland. its breeding was revived in the early twentieth century on French side of the border, it became known as the "Maîchard" on the plateaux of Haut-Doubs.